Super Effective – Embarrassing Fart Noise and Odor Eliminators!
102+ Amazon Reviews ★★★★☆ 4.2 Out of a 5-Star Rating
G.A.S.U. Double-Blind – Clinical Humor-Studies – Confirm DiscreetZ:
Are lifesaving, no joke, ANTI GAG GIFTS;

Instantly cure, In-Flatus Blow-Out-Us Syndrome;
Stop embarrassing underwear color changes;
Slow Climate Change, one fart at a time;
Are non-partisan, equal opportunity, fart eliminators;
Snuff out involuntary sewercide;
Prevent silent butt deadly marriage burnouts;
Increase dating regularity;
Reduce irregular job terminations;
Are misunderstood, becoming the butt of g-ass-y jokes!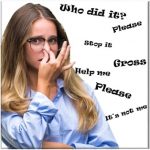 On a more serious note, DiscreetZ offers a truly effective solution,
which eliminates loud fart sounds and nasty smells up to 100 percent!
Freshen Your Farting Footprint!
These infamously funny videos helped inspire our DiscreetZ fart noise and smell elimination patent pending invention, enjoy!
DiscreetZ – Flatulence Odor Control Products and Loud Flatulence Silencers!
We have all passed loud smelly gas, trying to let it out slowly! 😲 DiscreetZ eliminates loud smelly gas embarrassment – comfortable & hypo-allergenic. These soft, flatulence neutralizers placed near the source of your bad gas will eliminate up to 100% of stinky odors & farting sounds. Round, SilentlyFresh Filters are effective for mild to normal gas – Rectangular, PowerGas Absorbers are for normal to extremely foul gas & up to 10 times more effective on smelly clear the room gas!