Watch this Quick-Start Explainer Video to Optimize DiscreetZ Absorbers and Filters.
Stop Up to 100% of Bad Gas Odor & Loud Farting Noise!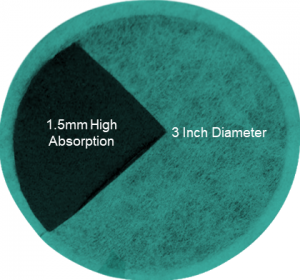 Mild Gas – Install a SilentlyFresh Filter (round) snugly against or inserted slightly in anus.

Normal Gas – Fold a PowerGas Absorber (rectangular) accordion-style and tuck it in your buttocks, against your anus, with no anal insertion. (Optional – Though not too effective, PowerGas Absorbers can also be taped to underwear for odor reduction.)

Extreme Gas – Tuck a SilentlyFresh Filter slightly in anus. Next, position a PowerGas Absorber, folded accordion-style, snug against your SilentlyFresh Filter. You now have a highly effective dual-filter solution.
Comfort – Use salve or lotion sparingly, use too much and you will lose effectiveness.
Results – Tighter underwear helps hold filter/absorber in place, so all gas is filtered.
Optimize – Adjust placement to improve or maintain your silent and odor free results.
Reuse – Carbon fiber is effective for long periods; however, due to sanitary risk, do not reuse. DiscreetZ recommends changing daily, or sooner, if soiling occurs.
Hygiene – Wash hands after applying and removing. Discard in trash. Do not flush.

Imagine 😊 ALL Flatulence...
100% ODOR-FREE & SILENT!
DiscreetZ Work or Their Free
30-DAY MONEY BACK TRIAL, Full Refund without returning,
LIMITED OFFER & FAST FREE SHIPPING!